Happy 31st Birthday to Kristy's Great Idea – the first novel in what was originally planned to be a four-book series that eventually spun out into a multi-decade, 200+ book phenomenom – the Baby-Sitters Club. This series was a huge part of my childhood, and seeing the books on Amazon (and even available for Kindle) warms my heart!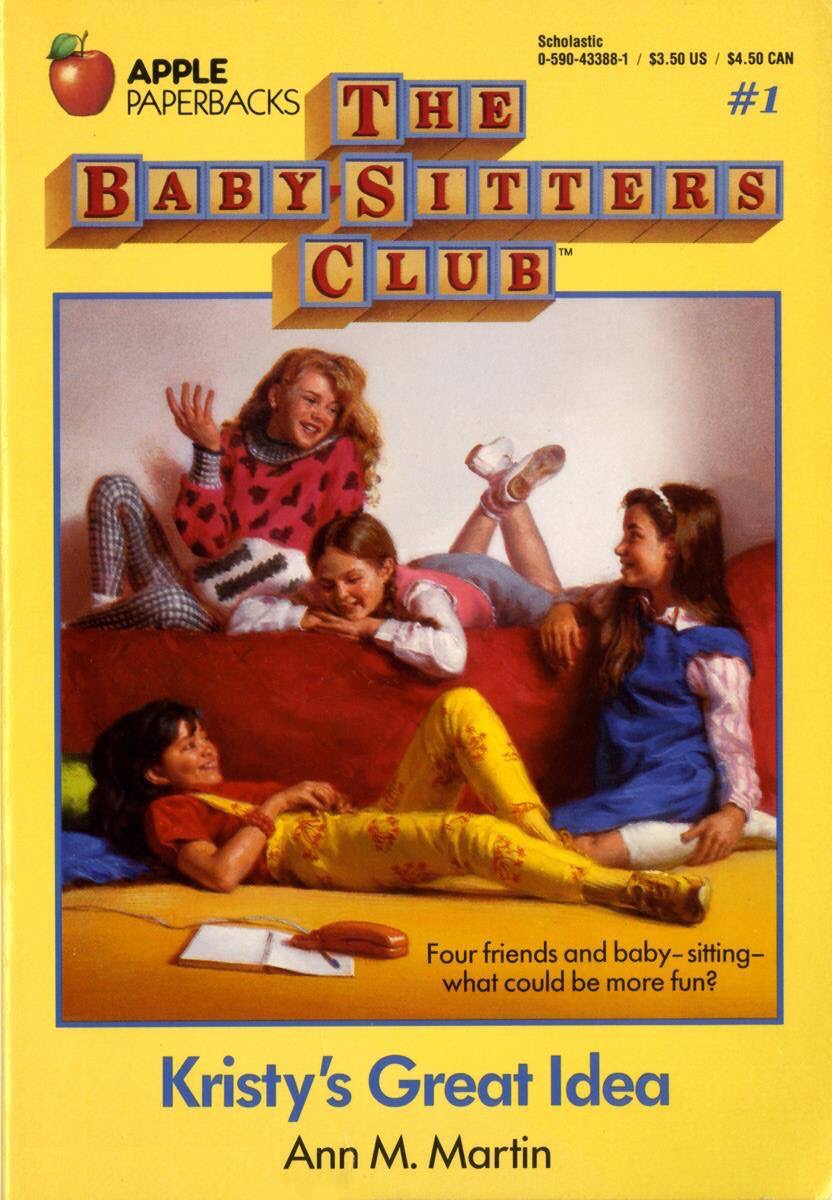 For most who grew up in the late 80s and 90s, these books were everywhere. Whether you were a fan or not, you likely remember seeing them in the children's section of your local bookstore (mine being a small B. Dalton's nestled into a corner nook by the movie theatre in our local mall). They usually took up at least half of the entire bookshelf, their tiny paperback spines in alternating pastel colors. They were usually stocked near the Goosebumps series, the Sweet Valley High series, and later, the Animorphs books. And though they were more expensive than comic books, at 3.50-4 bucks a book and releasing at one point at a book a month, they made for an interesting parallel to the comics my nine-year-old self was getting into.
I think there's something interesting about book series like these that seemed to dominate children's literature in the 80s and 90s. They were short, digestible, and a new adventure came out regularly. On one hand, I think it speaks volumes to the progression of children's literature that, thanks to books like Harry Potter, children's literature has progressed to a longer form of story-telling. You'll never hear me complaining that middle grade readers are devouring thick books. And though we do have series that seem to reach reluctant readers, like Diary of a Wimpy Kid (which seem to release annually), I still think there's something to be said for bite-sized adventures like those found in the Baby-Sitters Club.
Two of my cousins got me into the series, as they eventually inherited a sizable collection from their aunt. Whenever I bought a new volume, I would swap with friends or family in order to read as many of the stories as I could. I always related most to Kristy (for her take-charge attitude and "big ideas") and Mallory (for her love of writing). But I think each of the characters had something that made them relatable to young girls. And though the novels followed a standardized formula (making it easier for ghostwriters to complete many of the novels in order to maintain the schedule), over the 200+ book series (including spinoffs, Super Specials, etc), the main and supporting cast was given a chance to develop and grow – even if their ages stayed the same for the most part! It was ultimately this system that both got me into writing and got me to start a babysitting gig of my own for a few years.
The series was accessible, especially for young, reluctant readers, as were Goosebumps and Animorphs. And while children's literature may have come a long way, I think The Babysitter's Club has a secure place in children's literature history. Ann M. Martin continues to write to this day, her most recent series being the "Missy Piggle-Wiggle" books. If you want to check out Kristy's Big Idea or any of the other BSC books, they are available on Amazon.com. The movie is available for streaming (it tends to hop between Netflix and Hulu, and can be purchased from Amazon and iTunes) and sometimes the early 1990s live-action series pops on up Netflix as well. If you still need more of a fix, there's also a graphic novel adaptation of the first four books by Raina Telgemeier (author/artist of Smile, Sisters, Drama, and Ghosts).
What are your thoughts on the Baby-Sitter's Club? Did you read them growing up? Have you revisited them since childhood? What do you think about shorter, but more frequently released children's series like these?
As for me, I think I'm gonna watch the Baby-Sitter's Club movie and re-read Claudia and the New Girl.